The collective aviation security expertise and experience of our team at JT Aviation Solutions is highlighted by the following Case Studies:
---
Case Study: Frankfurt International Airport (FRA)
---
Centralized Security Checkpoint Terminal 1 Concourse B
The aim of this project is to ensure the future viability of Terminal 1. A northward relocation and centralization of the security checkpoint in Concourse B has been planned, which will enable to establish airside connections between Concourses A, B and C to become an Airside Center for better inhabitation. New efficient smart security layouts have been incorporated in the design.
Services
General concept development
Central security checkpoint design in 3 major options
Evaluation and recommendation of the preferred option
Identification of interface projects and its incorporation in the overall programming
Phasing options, scheduling and cost estimates
Adaptation of the security area plans involving all terminal levels
Flow plan development (for passenger, PRM, staff, supply and disposal flows)
---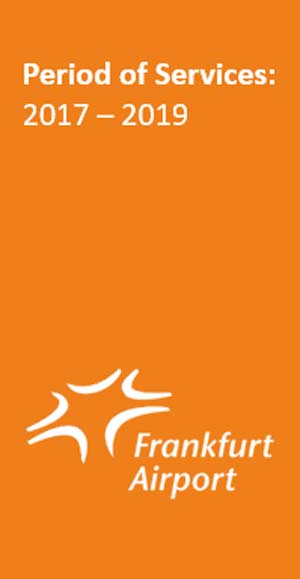 ---
Case Study: Hamburg Airport (HAM)
---
Terminal Security Infrastructure – Various Projects
At Hamburg Airport we have been continuously engaged since 2010 in various projects for analysis, planning and optimization of the terminal facilities. Security planning and the development of security checkpoints and its coordination with the responsible authorities has been an integral portion of our work.
Services on security
General concept development
Determination of security requirements for the entire terminal incl. all checkpoints
Development of several transfer and US checkpoints incl. interim solutions during construction
Queuing options for the central security checkpoint and guidelines for its operation
Detailed requirements specifications for terminal security (incl. doors) and checkpoints
Security plans showing security lines and zones as well as relevant equipment (checkpoint equipment, CCTV, badge readers, etc.)
Coordination of the design and implementation with the responsible authorities
---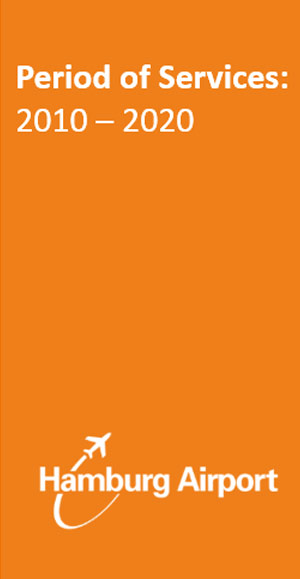 ---
Research Study: Landside Security
---
TH Airport Consulting sponsored and supervised a research study on landside security and the passenger experience in cooperation with the Kühne Logistics University in Hamburg. As part of the research several expert interviews as well as a passenger survey have been conducted.
Contents
General concept development
Analysis of psychological and subjective security perception
Examination and evaluation of landside security measures and their impact on the passengers
Empirical research on aviation security, psychology of security and the passenger experience
Initiatives to maintain the Passenger Experience under increased landside security requirements by application of the 3P Approach (Premises, Processes, People) based on the ACI EUROPE Guidelines for Passenger Services
Development of recommendations and best practices

---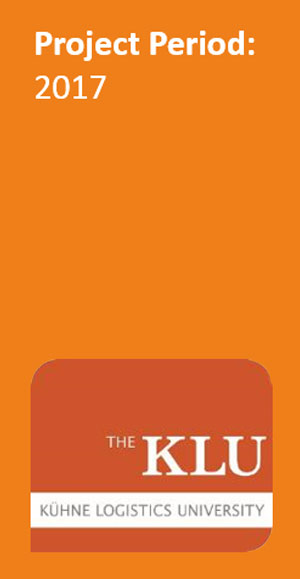 ---
Case Study: Karlsruhe / Baden-Baden Airport (FKB)
---
Expansion of the Security Checkpoint
The security checkpoint at Karlsruhe / Baden-Baden Airport needed to be expanded to five security lanes within a given (limited) space. Optimized layouts for a higher throughput and better space utilization were developed together with the airport management and the responsible authorities.
Services
Assessment of existing security processes
Development of layout options for the available space
Determination of optimized processes for better efficiency
Provision for body scanners in the future
Evaluation of options and recommendation of a phasing concept
Detailed design of the security checkpoint for implementation
Process description for staff training

---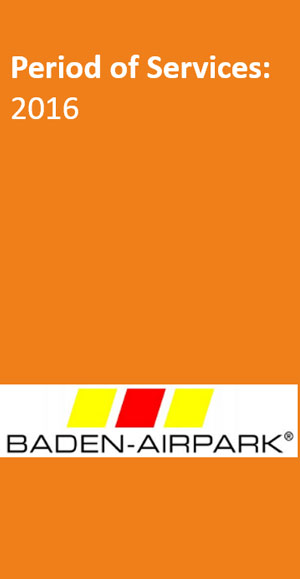 ---
Case Study: Bremen Airport (BRE)
---
Terminal Departure Area with Centralized Security
The City Airport of Bremen has combined two separate departure areas of its main Terminal into one with a centralized security checkpoint. On the basis of traffic forecasts for the year 2025 TH Airport Consulting has developed an optimized layout concept which has been realized in 2016.
Services
Determination of flight schedules and capacity requirements for the year 2025
Development and evaluation of layout options (incl. checkpoints for passengers & staff)
Planning of a central security checkpoint with optimized processes and queuing areas
Functional design of the selected concept
Preliminary cost estimate and schedule
Detailed requirements specification (incl. all security equipment for checkpoints and doors)
Coordination of the checkpoint requirements with the responsible authorities
Tendering and critical review of a technical feasibility study and the preliminary design

---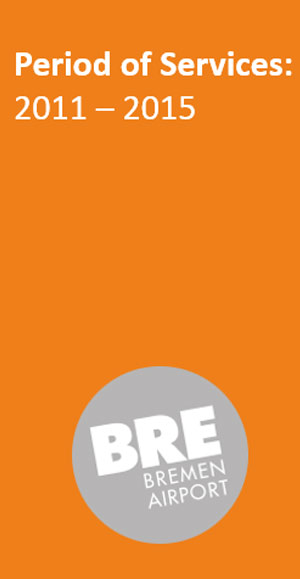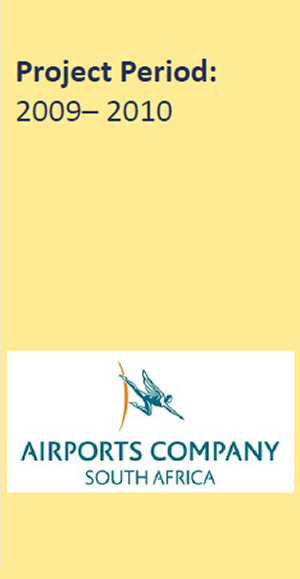 ---
OR Tambo International Airport
---
Smart Security Trial
Short description
The concept of Smart Security is thus a risk-based security system that brings together Security and Operations at an airport. ACSA has since initiated a Smart Security pilot which includes lane configuration and automation, full body image processing, screening of large electronic items effectively whilst in bags, centralized image processing and risk based differentiated screening by security officers.
Contents / scope
Services
Focused on optimizing resources and assets utilization, integrating innovative technology.
Repurposing existing equipment while integrating new procedures to facilitate risk-based screening and decision making.
Time series studies were conducted to compare the efficiencies introduced by integrating the technology and automating the passenger screening processes for Smart security vs. the traditional security.
Deployment of detection equipment and automated Lanes to access gates and staff checkpoints.

---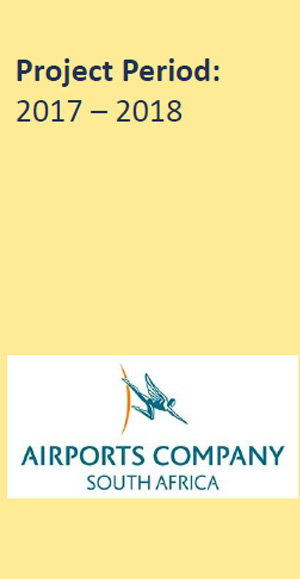 ---
Airports Company South Africa ACSA
---
Development/Implementation of a New Security Strategy, Structure and Operating Model
Short description
We need to review our strategy with our vision and the 3 Horizons, the entire ACSA ecosystem needs to align to the vision so that the security mandate is seamlessly implemented throughout the airports. Structural challenges and lack of mandate implementation were identified within enterprise security, therefore lead to developing a security strategy.
Contents / scope
Define design intent
Define service delivery model
Develop integrated enterprise security framework
Develop functional and reporting structure
Conduct change and job impact assessment and develop behaviour model
Implementation of strategy

---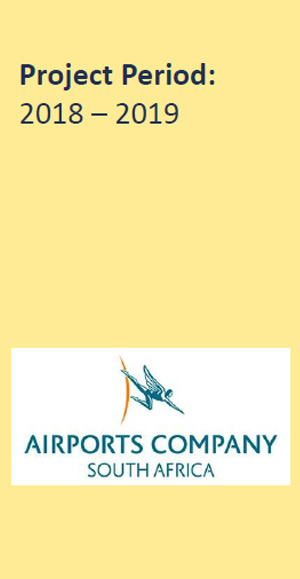 ---
Airports Company South Africa ACSA
---
Amendment and Update of the National Aviation Security Program & Local Airport Security Programs
Short description
The objective of national and international civil aviation security is safeguarding civil aviation against acts of unlawful interference. In order to achieve this objective, airports , air carriers, air navigation services are governed in a coordinated and systematic manner through the National Aviation Security Programme (NASP) and relevant Civil Aviation Regulations.
Contents / scope
The implementation of aviation security policies, regulations, and industry best practice;
Promotion of a security culture throughout civil aviation;
Stakeholder engagement and management;
Partnerships with key state security organs;
Implementation of aviation security best practices

---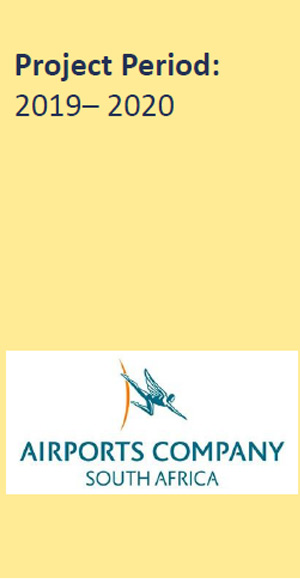 ---
Case Studies
---
ACSA – Security Model Development for the World Cup 2010
OR Tambo International Airport – Smart Security Trial
ACSA – Development/Implementation of a New Security Strategy, Structure and Operating Model
ACSA – Amendment and Update of the National Aviation Security Program & Local Airport Security Programs
Frankfurt International Airport – Centralized Security Terminal 1
Hamburg Airport – Terminal Security Infrastructure Development
Research Study – Landside Security & Passenger Experience
Karlsruhe / Baden-Baden Airport – Security Checkpoint Expansion
Bremen Airport – Departure Area with Centralized Security

---